Our Chiropractic Techniques
We use a number of highly-effective adjusting and therapeutic approaches to help improve spinal biomechanics and reduce nervous system interference. The approach we use is based on our clinical judgment and years of experience.
The primary adjusting techniques and therapies we use include: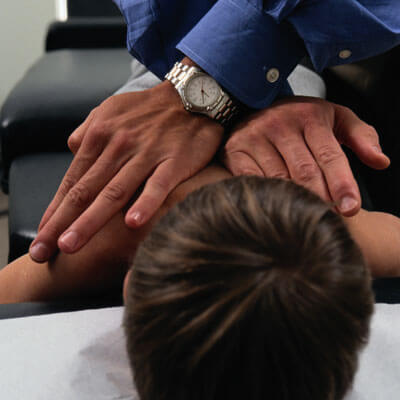 Gonstead
This full spine approach relies on X-rays and a heat-sensing instrument for a thorough evaluation and documented results. Gonstead »
Diversified
After identifying which vertebrae have lost their normal motion or position, a specific manual thrust is applied to free up "stuck" spinal joints. Diversified »
Thompson
Thompson Terminal Point technique is a system of analysis and a special table that reduces the amount of energy needed to adjust your spine. Thompson »
Activator Methods®
This is a system of spinal evaluation combined with a handheld adjusting instrument that delivers a consistent, low-force thrust. Activator Methods® »
Cox Flexion-Distraction
We use a special table so we can traction your spine, opening up the spacing between spinal vertebrae and relieving pressure to spinal. Cox Flexion-Distraction »
SOT
Sacro Occipital Technique helps normalize the relationship between the pelvis and the head, using gravity to make the necessary correction. SOT »
Toggle Recoil
While lying on your side, we'll use our hands to deliver a quick contact to the upper bones of your spine. Your body does the rest. Toggle Recoil »
Webster Technique
Subluxations where the sacrum joins the pelvis (hip) can be quite common during the course of pregnancy, and can produce a variety of symptoms in mothers preparing for the culmination of their pregnancy. Developed by the late Larry Webster, D.C., the chiropractic technique he developed and taught chiropractors around the world, helps release stress on the pelvis, relaxing surrounding ligaments and reducing the sacral subluxation to help restore more normal function. Webster Technique »
Decompression
Our specially-equipped table will ever-so-slowly stretch your spine. And then relax it. Stretch. And relax. Excellent for disc cases. Decompression »
Extremities
While many health problems can be traced to the spine, wrists, elbows, shoulders, knees other joints of the body can be helped. Extremities »
Dry Needling
Myofascial trigger points and tender points which appear in soft tissue reflect abnormal nervous system activity associated with many neuromusculoskeletal conditions that are treated in our office. Dry Needling »
The procedure known as Dry Needling is an important tool for diagnosing, treating and monitoring changes in myofascial trigger/tender points. During this procedure, a sterile, very thin, solid filament needle is inserted into tissue that may be associated with one or a number of your complaints. One or a number of needles may be used and the procedure may be performed during more than one office visit.
Custom Foot Orthotics
For certain foot types and conditions, we use locally-based Allied Orthotic rigid foot orthotics. We develop these orthotics using a foam casting kit while the patient is sitting.
Intersegmental Traction
We gently add motion to each vertebral joint to increase circulation, reduce scar tissue and enhance the effectiveness of your adjustments. Intersegmental Traction »
If you've been to a chiropractor before and prefer to be adjusted in a particular way, let us know. We want you to relax, enjoy and fully benefit from your chiropractic care.
Thanks for visiting our site. We look forward to meeting with you in person and learning how chiropractic can fit into your health care goals. Give our Goffstown chiropractic office a call or click here to email us and we can arrange a time to explore your options!